Rock climbing is an exciting outdoor activity that builds strength, balance, and mental focus. If you're new to the sport, it can seem intimidating to get started. However, with the right gear, location, and introductory knowledge, rock climbing is an achievable and rewarding hobby for beginners.
Necessary Equipment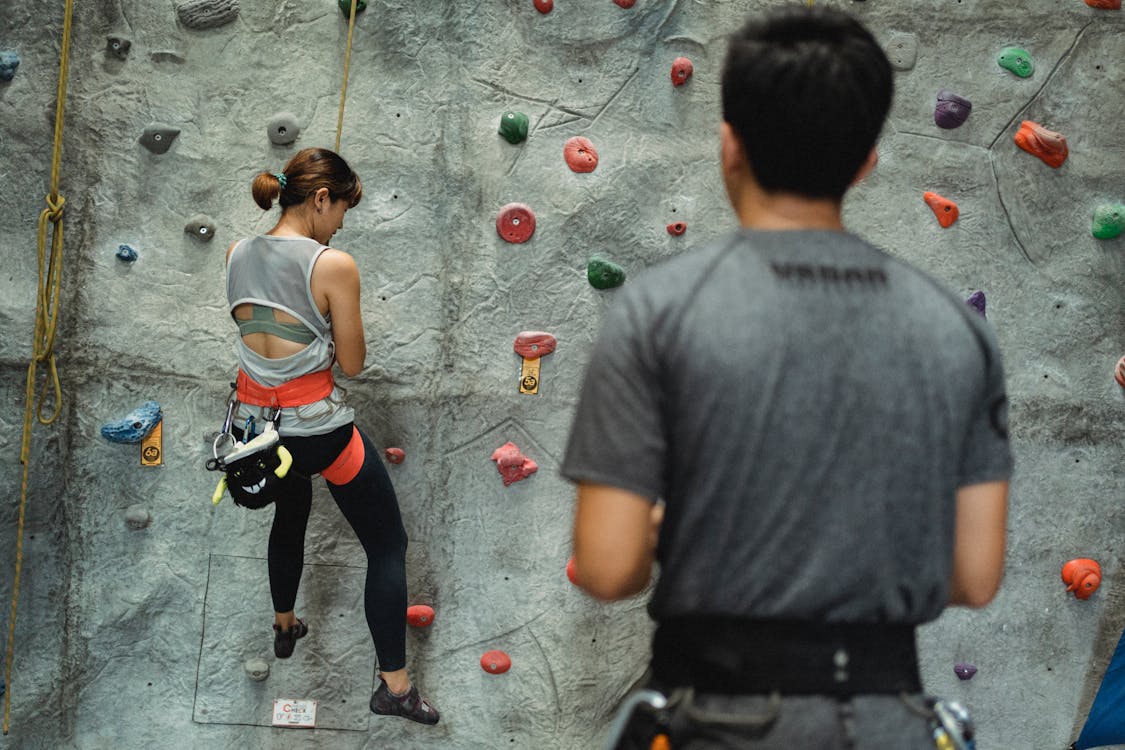 When first starting out, there are a few essential pieces of equipment you'll need to safely rock climb. Having your own gear not only ensures proper fit and function, but also allows you to climb anytime without rental fees. Here are the rock climbing basics every beginner should have:
Harness – A harness is a waist belt and leg loop system that secures a climber to the rope. When fitting a harness, it should be snug around the waist and legs to avoid inversion during a fall. Look for harnesses specifically designed for rock climbing, not mountaineering or construction.
Shoes – Rock climbing shoes should fit very tightly and have stiff soles to provide precision footing on small holds. As a beginner, choose a comfort-oriented shoe that has a flat profile and is downturned at the toe. Avoid aggressively downturned shoes until you progress.
Belay Device – This piece of equipment creates friction to manage the rope while belaying. As a beginner, choose a tubular belay device like the ATC or figure 8 which are versatile, affordable, and easy to use.
Rope – Climbing ropes need to be durable, elastic, and between 9.8-11mm in diameter. A 60m single rope is sufficient for most climbs. Beginners should start with a dry-treated rope since they're more durable.
Quickdraws – Quickdraws connect the rope to bolted anchors on sport climbs. Buy at least six pre-assembled quickdraws to start with. Eventually you'll want 12-15 in your quiver.
Chalk Bag – Every climber carries chalk to keep hands dry. Get a chalk bag with a rigid opening and brush to apply the chalk efficiently. Fill it with loose gymnastics chalk, not compressed chalk balls.
Belay Gloves – These fingerless gloves protect your hands from rope burn while belaying. Make sure they fit snugly but allow full dexterity of the fingers.
Good Starting Locations
Once you have the proper gear, you'll need to find suitable locations to start climbing. Indoor climbing gyms and basic outdoor slabs are ideal beginner spots before progressing to more vertical cliffs. Here are some places new climbers should look to:
Indoor Gyms – Indoor climbing walls are the easiest way for novice climbers to learn. Take introductory lessons, meet experienced belayers, and master fundamentals in a safe, controlled environment before venturing outdoors.
Outdoor Slabs – Look for low-angle slabs no more than 30-40 degrees steep with plenty of holds and feet options. Slabs allow new leaders to safely place gear and get accustomed to outdoor climbing flow. Popular beginner slab areas include Joshua Tree, CA and Buckhorn Wash, UT.
Sport Cliffs – Start on heavily bolted sport routes first before attempting gear-protected trad climbs. Sport routes have fixed anchors and focus on movement skills rather than gear placement. Check mountainproject.com for well-protected sport cliffs in your region.
Bouldering Areas – Bouldering involves climbing short rock problems close to the ground without ropes. It's the perfect way for beginners to practice technique, balance, and problem-solving skills. Just remember to use crash pads and spotters.
Basics of Climbing Safely
While rock climbing does carry inherent risks, following proper precautions and rules will ensure the safety of both climber and belayer. Always prioritize safety over pushing your limits as you're learning. Here are some key ways beginners can be safe on the rock:
Communication – Maintain clear commands between belayer and climber at all times. Use commands like "On belay?", "Belay on", "Climbing", "Take" and "Lowering" so intentions are understood.
Spotting – Have an experienced spotter ready to catch or redirect you if you fall on boulders. Don't highball boulder until you've mastered falling and landing.
Helmets – Wear a climbing-specific helmet when top-roping, lead climbing outdoors, or bouldering with potential hazards overhead.
Clean Falls – When lead climbing, practice safe falling by not resisting or flailing during a fall. Stay relaxed and trust your gear.
Gear Checks – Double check buckles, knots, harnesses, ropes, and slings before climbing. Have your belayer conduct a gear check as well.
Overhangs – Avoid horizontal roofs and severely overhanging walls as a beginner. Climbing underneath these features before developing proper technique can lead to painful pendulum falls.
Staying safe also means knowing your limits. Don't attempt dangerous climbs beyond your ability level. Stick to well-protected routes rated 5.8 and under while you're still new to the sport and always climb with a partner.
Climbing Etiquette
Rock climbing involves a lot of shared equipment and working in close proximity to others. Follow these rules of etiquette to be respectful and preserve the rock for future generations:
Take Turns – When climbings outdoors, take turns with other groups on routes and don't "claim" sections of the crag. Be patient and communicate to avoid conflict.
Control Your Voice – Keep your voice low when climbing near others as not to disrupt their focus and enjoyment of nature.
Brush Holds – Carry a stiff brush to clean chalk and debris from handholds after your climb. Don't leave the route in worse shape than you found it.
Minimize Chalk – Use chalk conservatively so holds don't become coated in the substance. Brush off excess after climbing.
Avoid Disturbing Wildlife – Be aware of endangered species like peregrine falcons that nest on cliffs and stay clear of areas where you'll disrupt animals.
Dispose of Waste – Pack out all garbage and waste. Never leave behind food, gear, or human waste at the crag or boulders.
Limit Group Size – Climb in small groups to reduce impact on parking, trails, and rock. Larger groups should split up when possible.
By following these climbing best practices, you'll avoid conflicts with other climbers and protect the natural places you enjoy. Focus on safety, sharing, and preserving the outdoors.
Questions and Answers
Here are some common questions beginners have about getting started with rock climbing:
Q: What skills should I work on as a new climber?
A: As a beginner focus on footwork, balance, and proper handholds. Take time getting comfortable on the wall before rushing the ascent. Also practice tying secure knots, using gear safely, and belay techniques.
Q: Can I go rock climbing alone as a beginner?
A: No, do not go climbing without an experienced partner. The inherent risks of climbing require an attentive belayer and spotter. Take a lesson to meet other climbers or find a mentor.
Q: Is rock climbing a good workout?
A: Yes! Climbing works your whole body while also improving flexibility, endurance, and grip strength. Even as a beginner, you'll notice yourself getting stronger if you climb consistently.
Q: How often should a beginner rock climb?
A:Aim to climb 2-3 times per week as you're starting out. This allows adequate rest and recovery between sessions. Too much climbing as a newbie can lead to finger pulley strains.
Q: Should I record my climbs as a beginner?
A: Recording keeps you motivated, tracks progress, and captures memories. Note climb name, rating, date and maybe take photos. Apps like TheCrag and Mountain Project let you log climbs.
Conclusion
The best way to start rock climbing is to invest in basic gear, head to beginner-friendly locations, focus on technique over difficulty, and climb with experienced mentors. Prioritize safety by using helmets, spotters, communication, and by staying within your ability level. Stick to these tips as a novice and rock climbing can be an incredibly fulfilling lifetime sport.