Rangoli is a traditional Indian art form that uses colored powder or sand to create beautiful designs on the floor. Making rangoli is an important part of Diwali celebrations in India. During the festival of lights, rangolis are made at the entrances of homes and offices to welcome Lakshmi, the goddess of wealth and prosperity.
As Diwali 2023 approaches, it's time to start thinking about new and innovative rangoli designs to adorn homes and bring good luck. This year, traditional motifs are being mixed with modern elements to create unique Diwali rangoli. Floral patterns, geometric shapes, and spiritual symbols are being given contemporary twists.
In this article, we will look at some of the latest rangoli design trends for Diwali 2023 and get inspiration for making your own stunning rangolis this festival season.
Color Trends
Color is integral to any rangoli design. The vibrant hues used bring the pattern to life. For Diwali 2023, bright and bold colors will take center stage in rangoli designs.
Vivid Rainbow Palette
This Diwali, expect to see rangolis utilizing a full rainbow palette. All colors of the rainbow including red, orange, yellow, green, blue, indigo and violet will be mixed to create lively multi-hued rangoli designs. The bright and vivid rainbow colors represent joy and celebration, perfect for the cheerful festival of Diwali.
Metallic Colors
Metallic colors like gold, silver, copper and bronze will also be popular for the upcoming Diwali season. These luxurious colors symbolize prosperity and wealth, befitting the auspicious Festival of Lights. Intricate patterns can be made using metallic powders or by incorporating glitter, foil and beads in designs.
Neon Hues
Neon shades are forecast to be a hot trend for rangolis this Diwali. The electric, fluorescent tones like neon pink, green, orange and yellow will make the rangoli patterns stand out. Neon colors represent energy and modernity. Combining these fun neon tones with traditional designs will give a contemporary twist.
Design Themes
Rangoli designs for Diwali draw from a variety of inspirations. Here are some of the themes expected to be popular for Diwali 2023:
Floral Patterns
Flowers are an essential element in rangoli art. This Diwali, three-dimensional floral motifs will be prominent. Designs with rose, lotus, marigold, jasmine and other flowers will be created. Popping up the flowers using cotton, sand or pulses instead of keeping them flat will add depth and interest. Vibrant floral rangolis symbolize joy and new beginnings.
Geometric Shapes
The use of geometric shapes like circles, squares, triangles, hexagons and stars in rangolis is a big trend for Diwali 2023. These shapes can be overlapped, interlocked and arranged in symmetrical or asymmetrical designs. Geometric patterns represent order, harmony and balance. Bold outlines and monochromatic geometric rangolis will be especially popular.
Spiritual & Religious Symbols
Auspicious symbols from Hindu mythology like the swastik, kalash, om, trident, footsteps, diya, peacock feather, and gems will be commonly seen in Diwali 2023 rangoli art. Celestial bodies like the sun, moon and stars will also adorn rangoli designs. These spiritual motifs signify the true meaning of Diwali and are considered sacred.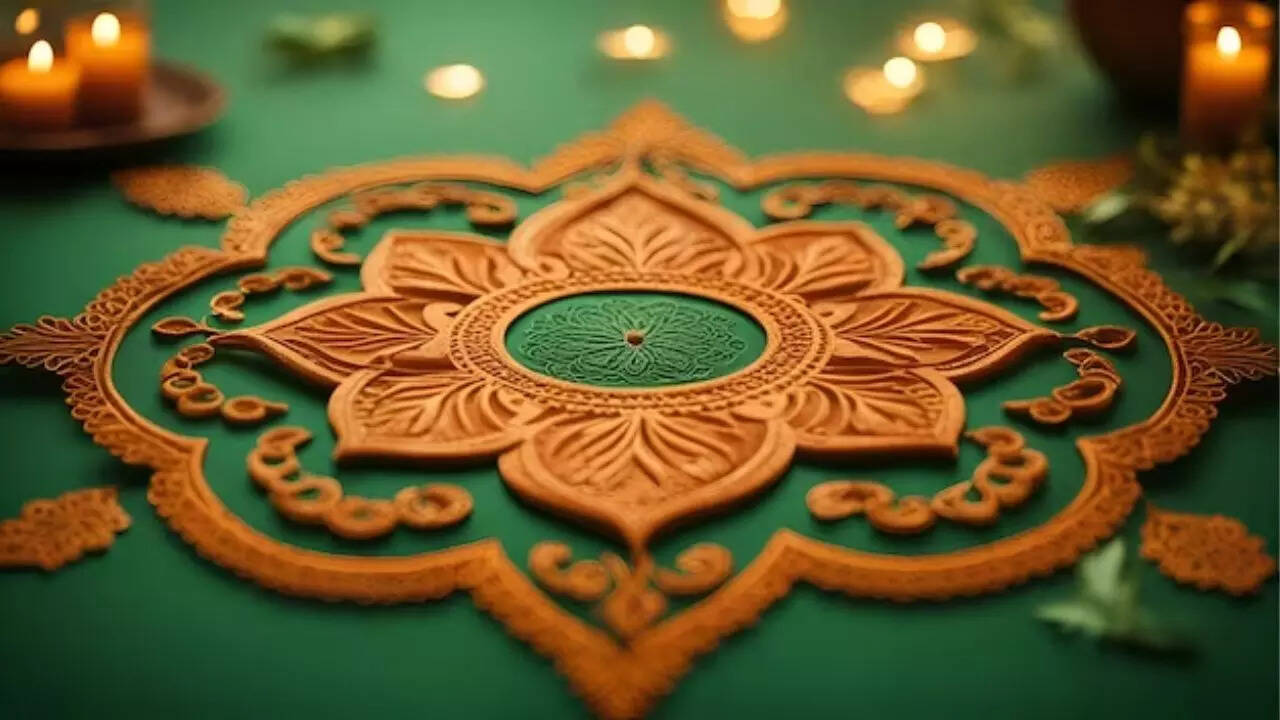 Innovative Design Ideas
Rangoli artists are continuously coming up with fresh ideas to make Diwali rangolis more unique and creative. Here are some innovative design concepts we will see more of this festive season:
Quirky Shapes & Patterns
Quirky modern shapes like triangles, squiggles, crosses and stripes will be used instead of traditional designs. These fun patterns add a lively, contemporary vibe to rangolis. Pop culture characters and motifs will also make an appearance in Gen Z inspired rangolis.
3D Effects
Three-dimensional designs will be a big Diwali 2023 trend. Layering flowers, patterns, diyas and other elements at different heights will create eye-catching 3D optical illusions. Incorporating everyday objects like spices, grains and pulses adds intriguing textures. Lighting up 3D rangoli art with diyas enhances the dramatic effect.
Storytelling Themes
Rangolis will be used as a canvas for storytelling this Diwali. Mythological tales, family histories and personal experiences will inspire rangoli narratives. These meaningful stories connect the art with Indian culture and values.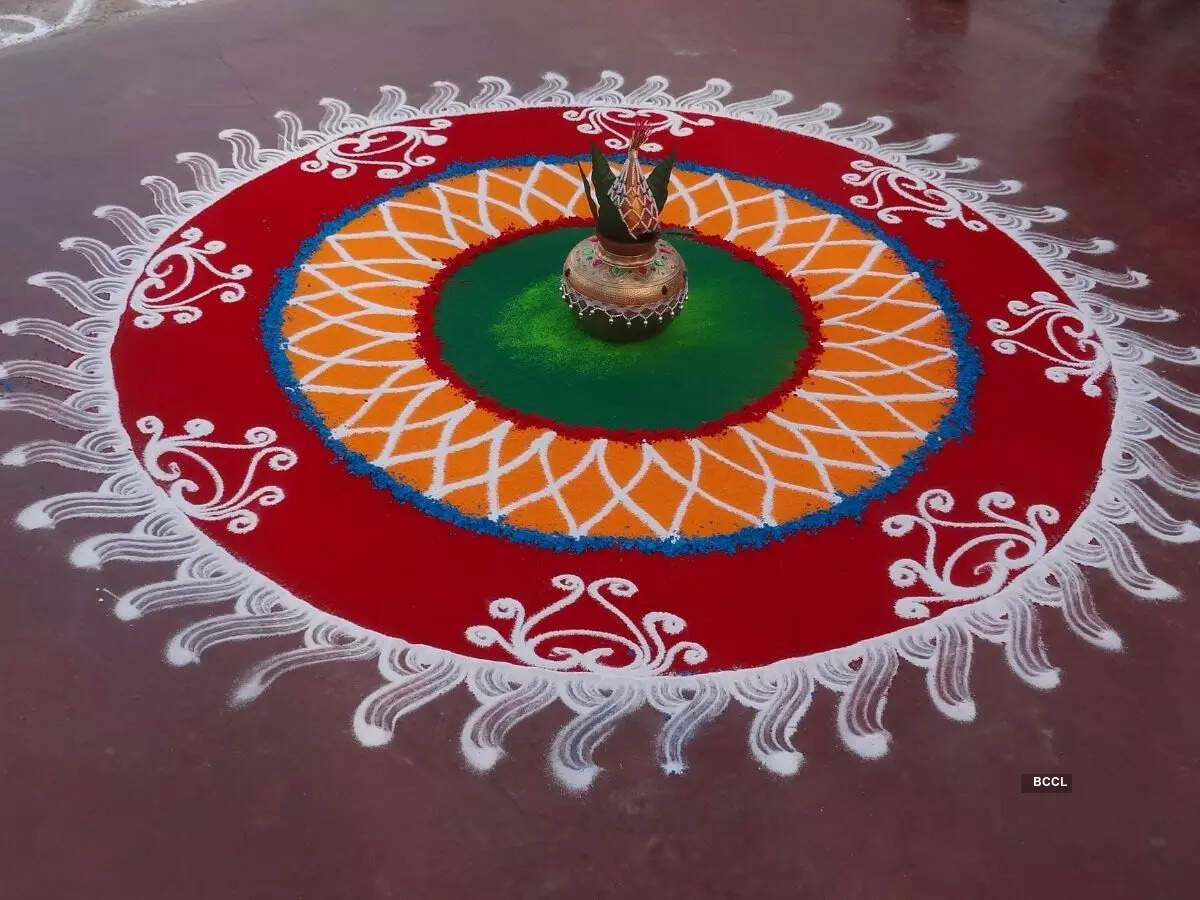 Abstract Designs
Instead of traditional geometrical or figurative patterns, abstract designs are emerging as a leading trend. Free-flowing shapes and lines in bright colors create modern abstract rangoli art. This contemporary style represents creative freedom and individuality.
Tips for Making Rangoli
Select a design that excites you and matches your skill level. Start with simpler patterns if you are a beginner.
Use a rangoli stencil for neat, symmetrical designs. You can also make your own stencil.
Choose quality rangoli colors and powders for vividness. Try different textures like rangoli sparkles.
Outline the design first with white rangoli powder using a sieve or stencil. Fill in with colors.
Work patiently and focus on neatness. Work in sections and avoid smudging completed areas.
Make smaller rangolis for indoor spaces and larger designs for outdoors.
Sweep and clean the rangoli surface before beginning for a clear workspace.
Draw inspiration from nature, culture, festivals, and your own creativity when conceptualizing designs.
Conclusion
Rangoli art symbolizes welcoming positivity into one's home and life. As an integral part of Diwali celebrations, rangolis represent the splendor and significance of this festival. By incorporating the latest trends with traditional motifs, you can create unique Diwali 2023 rangoli designs to spread joy and prosperity. The dazzling patterns uplift the festive spirit of the community. This Diwali, let your creativity flow as you decorate your home with beautiful, meaningful rangoli art.
Can you provide some tips on how to make rangoli designs using metallic colors?
Use metallic powder colors like gold, silver, copper and bronze available at craft stores. You can also use metallic paints.
Incorporate glitter, sequins, beads, foil paper/sheets, gold threads, etc. to add sparkle. Outline designs with these materials.
Mix the metallic colors with regular rangoli powders to create a shimmery effect.
Use stencils cut out in geometric shapes, floral motifs, etc. and fill with metallic colors.
Make patterns with grains like rice, lentils or sand colored with metallic paints.
Draw borders and outlines with metallic colors first. Then fill in with brighter shades. This makes the design pop.
Use metallic colors only for focal points like borders, centers of flowers rather than the whole design.
Try a monochromatic metallic scheme sticking to shades of one color like silver or gold for a classy look.
Illuminate metallic rangolis with small diyas or tea lights to enhance the shine and create a radiant glow.
Seal finished rangoli with hairspray to prevent smudging and mixing of colors over time.
Be patient while working with metallic mediums as they take longer to settle than rangoli powder.
Can you recommend any specific metallic paints or brands that work well for rangoli designs?
Camel Art Products Acrylic Metallic Colors – This brand has a wide range of acrylic based metallic paints in gold, silver, copper, etc. The finish is shiney and long-lasting.
Craftify Metallic Powder Pigments – These powder pigments provide a pearlescent sheen. They come in many colors like holographic silver, gold, red, green, blue and can be mixed into any medium.
Shilpavera Metallic Outliners – Specialized metallic paints for outline fine details in gold and silver by this brand. The precision nozzle makes it easy to use.
Jacquard Lumiere Metallic Acrylic Paints – Brilliant metallic sheen and available in gold, silver, copper, pearl, rich gold etc. in this acrylic paint range.
Pebeo Vitrail Metallic Paint – These have high pigment concentration giving very opaque and shiny metallic effects. Great for bold designs.
Krylon Leafing Pens – Has metallic leafing foil in silver, gold etc. that can be used to draw outlines and highlights.
German Glass Glitter – Coarse grain glitter powder that comes in stunning hues like red, green, blue for sparkly rangoli.
Art & Craft Lustre Dust – Pearl mica powder that can be mixed with adhesive to make metallic rangoli colors.
Are there any specific techniques or tools that work well with these metallic paints?
Brushes – Use good quality bristle brushes in various sizes like flat, round, liner. These help get smooth metallic finishes.
Dotting Tools – These tools with metal balls on the end are great for making intricate dotted patterns with metallic paints.
Stencils – Get intricate outlines and patterns by using stencils and filling in with metallic paints.
Sponging – Dabbing metallic paints with a sponge cut into various shapes gives interesting textures.
Outlining – Use metallic paints to outline designs first before filling colors. This makes the pattern stand out.
Mixing – Add a bit of metallic paint to regular colors to get a shimmery effect.
Stamping – Use vegetable or geometrical cut stamps dipped in metallic paints to print patterns.
Swirling – Make abstract designs by swirling and blending metallic paints using a toothpick or skewer.
Splattering – Flick metallic paint from an old toothbrush for a speckled effect.
Glitter Glue – Mix glitter glues with metallic paints for extra sparkle and shine.
Sealing – Seal rangoli with varnish spray to preserve metallic finish for longer.
Do you have any tips for beginners who are just starting to work with metallic paints for rangoli designs?
Start with a simple design – Don't attempt very intricate patterns initially. Begin with basic shapes and lines to get comfortable.
Use thin coats – Metallic paints appear opaque so resist the urge to apply too much. Multiple thin coats are better than one thick coat.
Let layers dry – Have patience and allow each layer to dry fully before adding another coat to prevent smudging.
Mix with normal colors – Blend a small amount of metallic paint with regular colors to subtly shimmer things up.
Try a monochromatic scheme – Using different shades of one metallic color (eg. silver) makes a classy, coordinated look.
Outline first – Outline designs with black or white acrylic paint before filling with metallic colors for definition.
Use a base – Paint a base coat in acrylic white or gold to help metallic shades pop.
Seal your design – Use a fixative spray at the end to prevent smudging and mixing of colors over time.
Correct mistakes quickly – Wipe away errors with a damp cloth before the paint dries.
Clean tools promptly – Don't let metallic paint dry on your brushes. It can be hard to remove later.
Practice on paper first – Trying out techniques on paper helps you get comfortable before working on the floor.