Shoestring fries, also known as skinny fries or frites, are a classic type of french fry distinguished by their thin, matchstick-like shape. While they take a bit more effort to prepare than thick-cut fries, their light and crispy texture makes them a favorite among fry lovers. This guide will provide an overview of shoestring fries including popular recipes and techniques for preparing them at home.
Common Types of Shoestring Fries
There are a few main varieties of shoestring fries available:
Homemade Fries: The thinnest type of shoestring fry made from potato strips cut by hand at home. Homemade fries allow you to control thickness and ensure perfectly uniform size.
** packaged Shoestring/Skinny Fries:** Found in the frozen food aisle, packaged shoestring fries are uniform potato strips that have been pre-cut and par-fried or blanched for convenience. Simply bake or fry to finish.
Steakhouse Fries: Slightly thicker than standard shoestring fries, steakhouse fries are long, thin cuts that develop an extra crispy exterior when double-fried.
Waffle Fries: While not quite as thin as typical shoestring fries, waffle fries have a distinctive wavy, ridged shape that also lends to crispiness when fried.
No matter the variety, the thin strips of shoestring fries ensure a maximum crunch factor in every bite. Their increased surface area compared to thicker fries allows them to achieve an unparalleled crisp texture.
Popular Shoestring Fries Recipes
Here are recipes for preparing different types of homemade shoestring fries:
Oven-Baked Shoestring Fries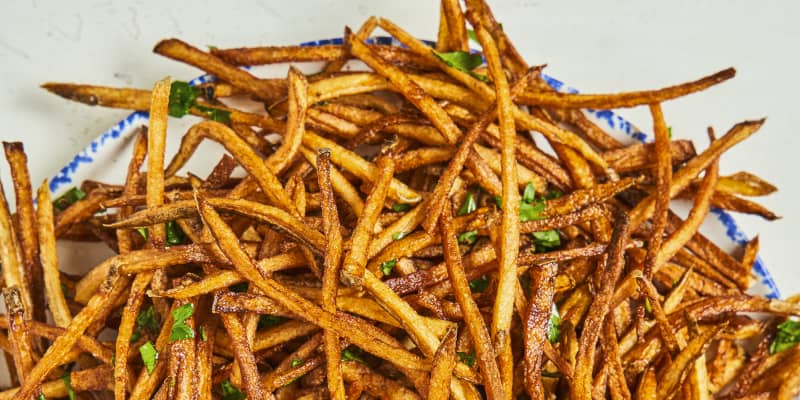 Ingredients:
Russet or Yukon Gold potatoes
Vegetable or peanut oil
Kosher salt
Instructions:
Preheat oven to 450°F and line a baking sheet with parchment paper.
Peel potatoes and slice into evenly thin strips about 1/8 inch thick using a mandoline slicer or very sharp knife.
Toss potato strips with 2 Tbsp oil until lightly coated.
Arrange fries in a single layer on prepared baking sheet.
Bake for 20 minutes, then flip and bake 10-15 more minutes until crispy and light golden brown.
Season with salt while hot and serve.
Double-Fried French Fries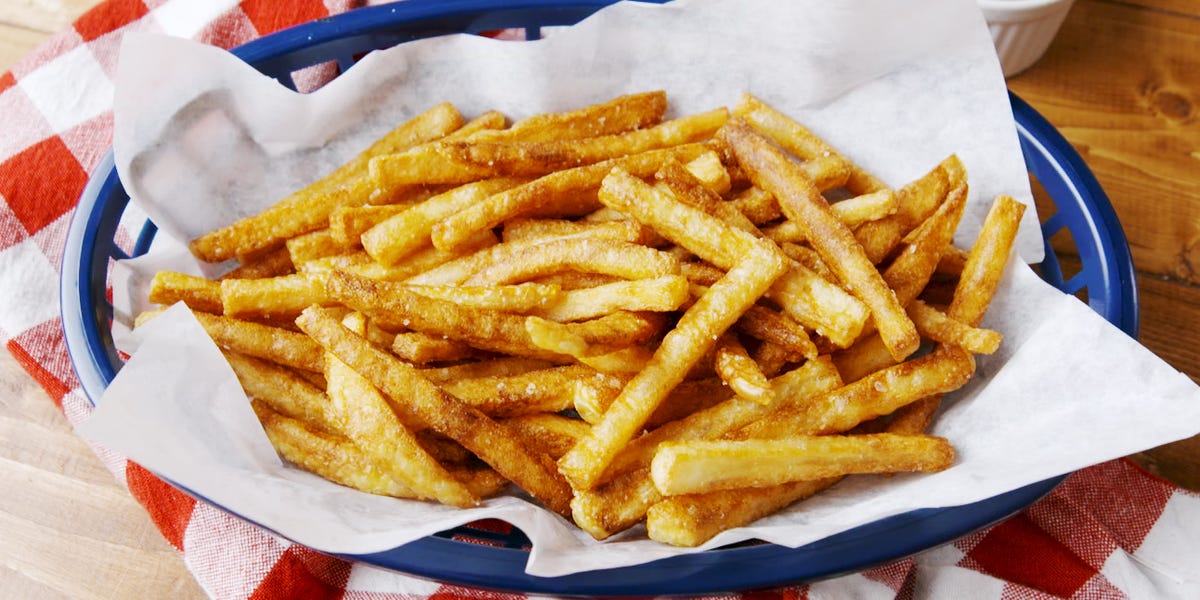 Ingredients:
Peanut or vegetable oil for frying
Russet potatoes, sliced into 1/8 inch sticks
Kosher salt
Instructions:
In a large pot, heat 2-3 inches of oil to 325°F.
Working in small batches, fry potatoes for about 3-4 minutes until slightly softened but not browned.
Remove with slotted spoon to paper towels to drain.
Once all potatoes are par-cooked, reheat oil to 375°F.
Fry in smaller batches for 2-3 more minutes until crispy and golden brown.
Drain on paper towels and immediately season with salt. Enjoy!
Steakhouse-Style Shoestring Fries
Follow the double-fry method but cut potatoes into slightly thicker 1/4 inch sticks for a richer steakhouse fry flavor.
Tips for Perfect Shoestring Fries
Here are some additional tips for ensuring shoestring fries turn out crispy every time:
Use high starch potatoes like Russets for maximum crispness. Yukon Golds also work well.
Cut evenly thin, about 1/8 inch thick for standard shoestring size. A mandoline or French fry cutter creates uniform strips.
Rinse cut potatoes and pat completely dry before frying to prevent excess moisture.
For oven baking, toss lightly with oil to coat versus soaking in oil.
Fry in small batches to prevent overcrowding the oil. Crowding leads to soggy fries.
Partially pre-cooking fries in oil helps them crisp up without burning during second frying or baking.
For oven fries, stagger baking times so not all fries are done at once keeping first batches hot and crispy.
Season fries immediately after frying while still hot for best flavor absorption.
With the right potato varietal and careful preparation, it's easy to achieve shoestring fries with an irresistibly crisp texture at home. Their slender size maximizes crispiness in every bite.
In Summary
Whether custom cut or store-bought, shoestring fries offer a lighter and more intensely crispy snack than their thicker fry counterparts. Their thin, elongated shape provides maximum surface area for optimal crunch and zero compromise on flavor. With the right recipe and cooking method, shoestring fries can be enjoyed anytime—a testimony to their simple deliciousness. Whether as a hearty side dish or snack, their skinny size is deceiving; shoestring fries pack intense potatoey goodness in every bite.
What are some other popular types of fries besides shoestring fries?
Thick-cut/steak fries:
Sliced thicker than shoestrings, usually 1/2 to 3/4 inch wide.
The increased thickness allows the inside to become fluffy and soft while the outside develops a thick, crispy crust during frying.
Often used as an accompaniment to steak or burgers.
Curly/wavy fries:
Potatoes are cut lengthwise into long spiral strands using a special curly fry cutter or knife.
This results in fries with a distinctive ridged, wavy texture from the spiral shape.
The ridges and folds catch oil during frying, developing an extra crispy exterior.
Waffle fries:
Have a square or rectangular waffle-like shape achieved using a waffle fry cutter or knife.
The ridges and depressions of the waffle shape maximize surface area for enhanced browning and crunch.
Crinkle-cut fries:
Irregular shaped strips that are crinkled or wavy on the edges.
The zig-zagged edges increase the amount of exposed surface for more Maillard browning during frying.
Produce an irregularly textured fry that is both crunchy and soft.
Seasoned fries:
Plain fries are coated or dusted with herbs, seasonings or spice blends before frying.
This adds layers of flavor like cajun, garlic parmesan, salt and vinegar, etc.
Seasonings toast and crisp during frying for extra pizazz.
I hope this helps provide more context around the characteristics of these different fry varieties! Let me know if any part needs more explanation.