Walk down the condiments aisle of any modern supermarket and you'll be greeted by an array of pesto options. From classic Genovese basil to sun-dried tomato and spinach, pre-made pesto offers home cooks a convenient and flavor-packed shortcut. But is the ease of store bought pesto worth sacrificing the superior taste and satisfaction of homemade? This article will examine the pros and cons of using prepared pesto versus making it yourself.
The Convenience Factor
The biggest advantage of store bought pesto is its sheer convenience. Making traditional pesto requires fresh basil, pine nuts, garlic, olive oil, and Parmesan, plus the effort of washing, steming, chopping, and laboriously blending it all together. Prepared pesto eliminates much of this work – just open the jar, give it a quick stir, and you're ready to drizzle it over pasta, spread it on sandwiches, or incorporate it into dips and sauces. For busy home cooks, 10 minutes saved by using pre-made pesto may be worthwhile.
Consistency and Reliability
Store bought pesto also offers more consistency batch to batch. With homemade pesto, the flavor and texture can vary widely depending on the quality of the ingredients and the thoroughness of blending. Commercially made pesto aims to taste the same whenever you buy it, taking some of the guesswork out of the equation. You also don't have to worry about your homemade pesto spoiling quickly – commercially prepared versions contain preservatives to extend shelf life opened and unopened.
Downsides of Store Bought
However, there are some distinct downsides to relying solely on pre-made pesto. First and foremost is taste – homemade pesto is widely considered far superior in freshness, complexity and flavor punch. Basil and olive oil lose their potency quickly after blending, so homemade pesto just tastes significantly brighter and more vibrant. You also have total control over the ingredient proportions and can adjust to suit your palate.
Making your own pesto also allows you to use higher quality, fresher ingredients like freshly grated Parmigiano-Reggiano and authentic, buttery Italian olive oil. The pine nuts and garlic in store bought pesto are often stale and lackluster. Preservatives and stabilizers also alter the flavor.
Satisfaction of Homemade
Beyond taste, there is deep satisfaction in making your own pesto and serving a sauce you crafted yourself. Following an old family recipe with childhood nostalgia adds a meaningful touch to meals. The sights, sounds, smells and textures involved in homemade pesto create sense memories store bought can't replicate.
Homemade also allows flexibility to experiment, substituting basil with cilantro or pistachios for pine nuts. You can personalize pesto to suit your mood or menu. Playing with different herb and flavor combinations yields new creations.
Tips for Homemade Pesto Success
If you're inspired to make your own pesto, here are some tips for success: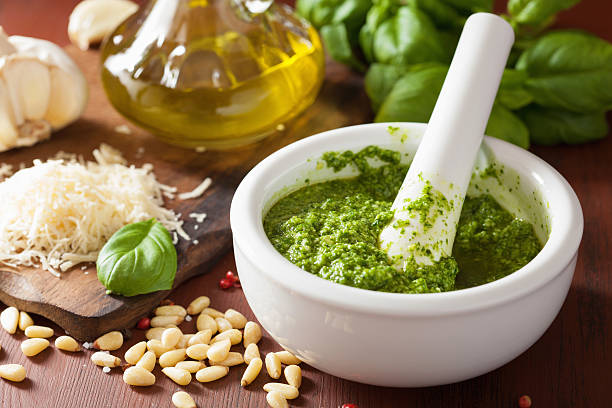 Use young, tender basil leaves packed with oils and aroma. Discard any wilted or discolored leaves.
Wash and dry basil thoroughly – any moisture will cause browning.
Add a pinch of salt to the basil leaves before blending to draw out moisture.
Use authentic Parmigiano-Reggiano and high-quality extra virgin olive oil. Low-grade olive oil will make flabby pesto.
Blend in a food processor or with a mortar and pestle. Don't over process into a puree.
Add pasta water as needed for a smooth consistency that coats pasta.
Store homemade pesto with a layer of olive oil over the top to prevent browning.
The Verdict
Ultimately, both homemade and store bought pesto have their virtues. For a quick weeknight meal, prepared pesto can be a flavor powerhouse. But for the true, vibrant taste and pride of crafting your own signature sauce, homemade is hard to beat. Even just occasionally making a batch of fresh pesto to store and use later can upgrade your cooking. The ideal is to find balance based on your time constraints and how much satisfaction pesto preparation gives you. Think of store bought as a shortcut, while striving to savor the pleasures of homemade when you can.
Pesto is one of those versatile sauces that can make nearly any dish feel a bit more gourmet. Whether you rely on the convenience of quality store bought options or take the time to blend your own, incorporating pesto is an easy win. Just