Green bean casserole is a beloved American dish that has graced holiday tables for generations. With its combination of tender green beans, creamy mushroom sauce, and crispy fried onions, this casserole is the perfect blend of flavors and textures. In this article, we will explore the origins of green bean casserole, break down the essential components that make it so delicious, and provide step-by-step instructions to make the ultimate homemade version of this timeless classic.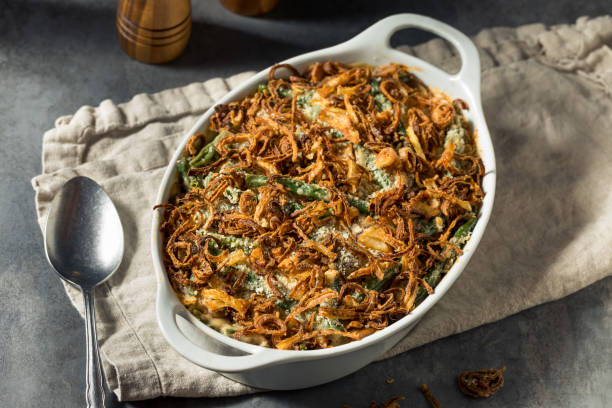 History of the Green Bean Casserole
While green beans and cream of mushroom soup were common ingredients in American cooking for decades, it was Campbell's Soup Company that first combined them into the casserole we know and love today. In 1955, Campbell's corporate chef Dorcas Reilly was tasked with creating a quick and easy recipe that could showcase their cream of mushroom soup. Reilly devised the idea to mix the soup with green beans and top it off with crispy fried onions, creating an instant hit.
When Campbell's published the recipe in their corporate magazine, it quickly spread nationwide. The dish became a staple at holiday meals and potlucks, as its simple preparation and crowd-pleasing flavors made it the perfect side dish. It continues to be a nostalgic recipe that families pass down from generation to generation. The green bean casserole has cemented its place in American cuisine as a beloved representation of traditional home cooking.
Key Components of the Green Bean Casserole
While the green bean casserole may seem simple, each component is essential in creating the quintessential flavor and texture. Here are the key ingredients:
Green Beans – The green bean casserole wouldn't be complete without loads of fresh, crisp green beans. Choose tender and slender beans that snap easily when bent. The beans are briefly boiled to maintain their crunch and vibrant color.
Mushroom Sauce – The rich mushroom sauce is what brings everything together. While you can use cream of mushroom soup, as the original recipe calls for, homemade mushroom sauce elevates the dish. Sauté mushrooms, onions and garlic, then make a basic white sauce with butter, flour and broth. Finish it off with heavy cream.
Fried Onions – No green bean casserole would be complete without those crispy fried onion strings on top! While French's makes the classic canned fried onions, homemade onions bring even more flavor and crunch. Simply slice onions thinly and fry in oil until golden brown and crispy.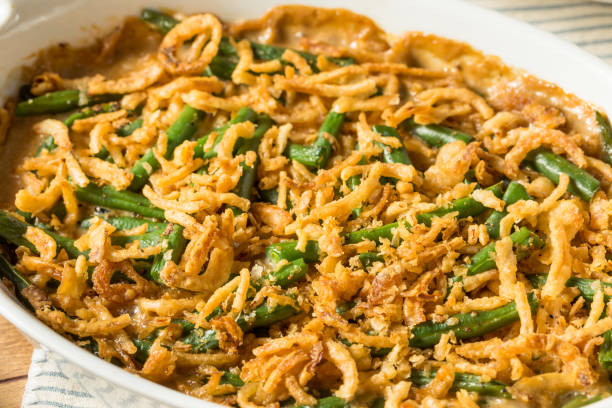 How to Make the Best Green Bean Casserole
Follow these simple steps for the ultimate homemade green bean casserole:
Ingredients:
1 1⁄2 pounds fresh green beans, ends trimmed
3 tablespoons butter
8 ounces mushrooms, sliced
1 small onion, diced
3 cloves garlic, minced
3 tablespoons all-purpose flour
1 1⁄2 cups chicken or vegetable broth
1⁄2 cup heavy cream
1 teaspoon Worcestershire sauce
Salt and pepper to taste
1 1⁄2 cups French fried onions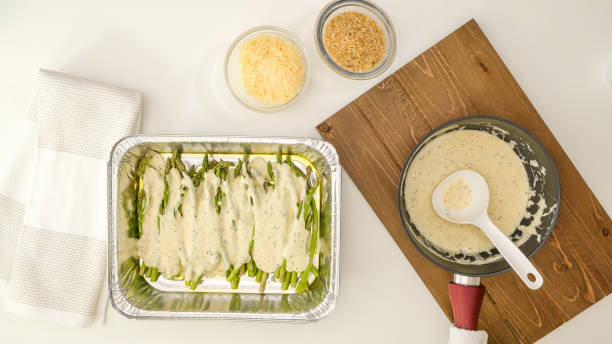 Instructions:
Preheat oven to 350°F. Grease a 2-quart baking dish and set aside.
In a large pot, boil green beans in salted water for 5 minutes until just tender but still crisp. Drain and rinse under cold water to stop cooking.
In a skillet, melt butter over medium heat. Cook mushrooms, onion and garlic for 5-7 minutes.
Whisk in flour and stir for 1 minute. Gradually whisk in broth, cream and Worcestershire. Cook, stirring frequently, until sauce thickens. Season with salt and pepper.
Add green beans and sauce to prepared baking dish, stirring gently to coat.
Bake for 25 minutes until bubbly. Remove from oven and top with fried onions. Bake for 5 more minutes.
Let sit 5 minutes before serving. Enjoy!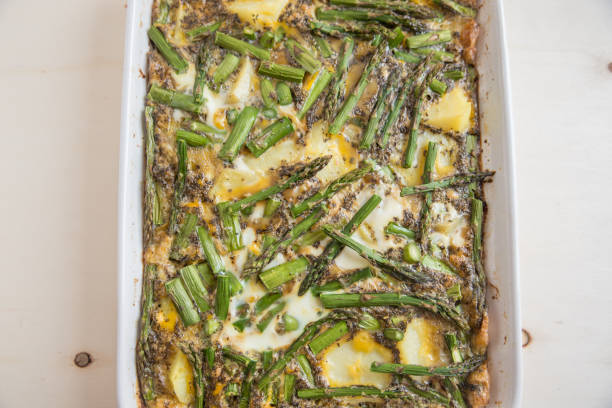 Tips for the Best Casserole
Follow these tips for green bean casserole success:
Make the mushroom sauce from scratch for maximum flavor. Jarred sauce lacks depth.
Undercook the green beans slightly so they maintain their crunch after baking.
Toss the green beans in a bit of oil before baking so they don't dry out.
Allow the casserole to rest before serving so the flavors meld together.
Make ahead and refrigerate unbaked, covered for up to 2 days.
Customize with garlic, herbs or spices. Add crispy bacon or grated cheese for extra oomph.
Swap out green beans for asparagus or broccoli florets if desired.
The Perfect Holiday Side
As you gather with loved ones this holiday season, carry on the tradition of